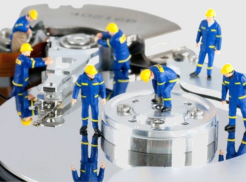 With the expertise of more than 10 years of data recovery experience, the most extensive set of proprietary data recovery software, tools and processes, and an unmatched commitment to exceptional customer service, Infodata offers the perfect data recovery solution for solving virtually any data loss problem.

Through its Data Recovery services, Infodata has the expertise to handle:

 All causes of data loss, from simple to the most complex and catastrophic data loss situations, including human error, viruses, natural disasters, accidental deletion, system crashes, corruption, hardware failure and more.

All types of media, devices and systems from hard drive recovery to recovering RAID systems, to laptops or MP3 players. Info Data Recovery can even recover data from storage or database systems that are unique to your organization.

Following your free phone consultation and comprehensive evaluation including , which lists all your recoverable files, you select from a variety of data recovery service methods, pricing options and service levels ranging from one hour to a few days, depending on how quickly you need your data returned.
Devices we can recover
Laptop Data Recovery

Raid Data Recovery

Hard Drive Data Recovery

Deletion Data Recovery

Formatted Data Recovery

Hard Drive Repair

Data Recovery & Restore

File Fix / Repair / Recovery

Corrupted Data Recovery Fix

Flash Drive Data Recovery

SSD Solid State Data Recovery

NAS Unit Data Recovery

Corrupter Excel / Word File

Data Recovery

Disaster Recovery

Linux Data Recovery

Memory Card Data Recovery

USB Data Recovery

CD Data Recovery / External Drive Data Recovery

Video's