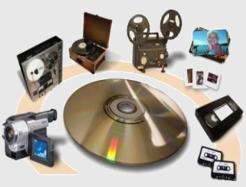 We convert your home movies (8mm, super 8, slides and virtually any other format) to DVD. Don't take a chance with your precious memories.
VHS tapes and VCRs are fast becoming an outdated technology – many may argue that they already are. If there's any footage that you want to preserve that's presently in a VHS or any tape format, now's the time. If you continue to wait, you'll see fewer and fewer opportunities to make this change and save your VHS footage.
Another concern is damage. Even if your VCR doesn't eat your VHS tape, the film in it will slowly degrade eventually, whether you play it often or you don't. VHS tapes can start falling apart in as little as 3 years. If your VHS rips, we can fix it and still make your transfer to DVD. DVDs can last anywhere from 20 to (some say) even 100 years. Whether it's your favorite movie or a sentimental home video, you should make the switch from VHS to DVD sooner rather than later.
We transfer all kinds of video, audio, and file formats to DVDs and CDs.
Here's a list of what we can edit:
VHS

VHS-C

S-VHS

MINI-DV

HI-8, 8 MM TAPE

DIGITAL 8

BETACAM

HDV

HDCAM

DV-CAM

DVCPRO

VINYL RECORDS TO CD

DAT AUDIO TAPES

MICRO-CASSETTE

AUDIO CASSETTE.

BETAMAX (Discontineud)